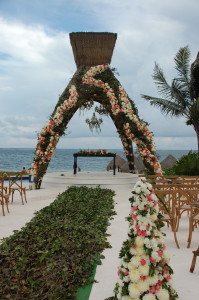 Destination weddings, honeymoons, vow renewals, anniversary trips, babymoons, familymoons – these aren't your typical once-a-year family vacations. These will be the most important trips you may ever take, and also the most important trips you will ever plan. So, why take any chances? Partner with a Romance Travel Specialist like me. You do the travel dreaming while I handle the details behind the dreams!
Not convinced? Here's a list of the top 6 reasons couples planning a romance vacation should use a Romance Travel Specialist for this special, once-in-a-lifetime trip:
1. I'll always deliver the best value.
Note, that doesn't always mean the lowest price! Sometimes, the cheapest online deals aren't the best choices for many couples. As a romance travel specialist, I'll present options and help you choose the travel arrangements that best fit your dreams. Do you go to a restaurant and tell the waiter "just bring me the cheapest dish on the menu"? I'll bet not.
2. I'll take away the hassles and headaches of travel planning, especially for groups like Destination Weddings.
For many romantic getaways, the booking itself is just the start. That's when the real work begins – with a Destination Wedding, for example, someone has to communicate travel details to your wedding party and guests, answer questions about passports and departure taxes, track down important guests who are waiting 'til the last minute to book, and take Aunt Nancy's daily calls about what there is to do in Mexico before the ceremony takes place! As the romance travel specialist, I take all of those phone calls and emails off the bride and groom's plate!
3. By working with a travel consultant, you get the benefit of my professional expertise and insider industry knowledge.
Many couples feel they can plan this important vacation themselves using info they've gathered from the Internet… but that info isn't always complete, and it's usually slanted in favor of the suppliers and others who're sharing that info. For example, a resort may offer an amazing rate for a honeymoon stay at a luxurious Jamaican resort, but the fine print in the "deal" doesn't mention the fact that the resort will be undergoing renovations during the honeymoon dates. So, you get your dream honeymoon (albeit for a low rate) in the middle of a construction zone. Or, Destination Wedding guests may book a less expensive stay at a hotel next to the resort where the couple will be hosting the wedding, but no one tells those guests that they must pay for daily passes to get onto the resort for the ceremony or any other time they want to hang with the rest of the crew. It's even entirely possible that the resort hosting the ceremony may hit capacity and stop selling day passes! So those guests get turned away at the gate and miss the wedding they traveled all that way to attend. As the romance travel specialist, I know these things – and I'll happily share them with my clients. Plus, I have the "backup" of an experienced industry network to consult with if needed.
4. I'll help you avoid costly misunderstandings and mistakes.
What must couples do to get lawfully married in Mexico? What steps must they take to conduct a ceremony in the Roman Catholic chapel near their chosen resort? What must Destination Wedding guests who are bringing children do if they're divorced and share custody in order to avoid customs/immigration delays at the airports? What fees must couples pay if they want to use their own officiant or bring in their preferred photographer? As the romance travel specialist, I handle questions like these to help my clients avoid nasty surprises!
5. I'll step up for you when things go wrong.
When a last-minute hurricane warning appears three days before the Destination Wedding date, or the resort calls to say it's overbooked the honeymooners who must now be "walked" to an off-the-beach property down the road, I'll step up for my couples to protect their rights and their trip! The big guys on the internet won't do that!
6. This is likely the most important vacation you'll ever take.
Again, why take chances? Making your travel arrangements with me won't cost you anything extra, and will get you so much more than if you just booked your trip online.
Call or email me to start planning your special romantic vacation.