Destination Weddings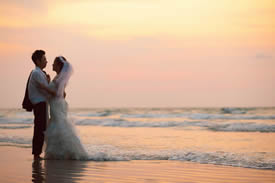 Congratulations! You're getting hitched and you want to celebrate in style with a destination wedding! Perhaps your vision is an intimate toes-in-sand ceremony for two. Maybe you're dreaming of a grand affair for all of your friends and family. Whatever your wedding wish may be, we'll work together to bring your vision to life.
Three Wishes Travel is your one stop shop to the perfect destination wedding. We specialize in resort weddings in the Caribbean and Mexico and will make the planning process a breeze. From picking the right resort, reserving your wedding date, assisting with all travel arrangements for you and your guests, and liaising with the resort's wedding planner on the details of your day…there's just no simpler way to plan a wedding!
We would love to help out with your bachelor/bachelorette party travel plans and your honeymoon too. A quick resort or destination change is a welcome treat after the big celebration and a great way to enhance your experience!
Schedule your free consultation today!
What are you waiting for? Contact me and make your destination wedding wish!
"Thank you so much for everything you did for us! The wedding turned out perfect. I loved the way everything came together. Everybody at the resort was amazing! They really took care of us and our family. Everybody had a great time!" -Natalie, married in Mexico

"We had an amazing time. The lady did a fantastic job on my hair and makeup, I was very impressed and it was definitely worth the expense.  Massages were awesome. Wedding coordinator was super cool. It felt like everyone at the resort knew us and congratulated us like every day, countdown to the day, etc.  Everyone there was fun and in a great mood.  A good vibe all the way around. The wedding was beautiful, nice and short, pictures turned out really nice. It was an amazing resort, totally above our expectations. Definitely a resort chain we will visit many more times. Thank you so much for putting this whole thing together for us.  It would not have been smooth and easy without you!!!" -April, married in Jamaica