Groups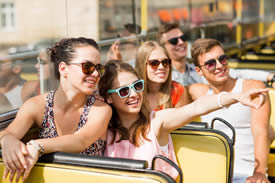 We choose to travel together for a variety of reasons. Is it your turn to plan the annual family reunion? Want to build an incentive trip that will really motivate your sales force? Are you getting a set of friends together for a vacation "just because"? Whatever your reason for traveling with friends, family, or coworkers may be, allow Three Wishes Travel to handle the details. It can be rough to coordinate with everyone's specific needs. Let me take that responsibility off of your plate.
Typically, you're considered a group when you have 10 or more rooms traveling together. Some resorts offer group perks starting at just 5 rooms! Group perks vary based on resort, but can include free upgrades, complimentary private group dinners or cocktails, and more. Here at Three Wishes Travel, we're well versed on the ins-and-outs of group travel and are committed to getting the best value for your entire party.
What are you waiting for? Contact me to make your group travel wish!
"The trip was awesome Amy. We were able to do some things we weren't able to do last time like get out and see Jamaica not just the tourist spots. The resort was the best, I can speak for everyone and say we wouldn't want to stay anywhere else. It was an all around great trip." -Jason, traveled to Jamaica

"The vacation was sooooo peaceful and relaxing. Thanks for all your help! We really loved the resort. Everyone was so nice. It was very clean. Didn't have any problems. We did spend a lot of time catching some sun at the beach and pool on the resort, but left for a day and headed to Negril. I went snorkeling for the first time and it was beautiful. We were able to do a little shopping and go to Rick's Cafe. The sunset was beautiful. Again, thanks for all your help in making my birthday special! It was amazing." –Maya, traveled to Jamaica

"I had an AMAZING birthday!  It was so memorable and it brings tears to my eyes even thinking about it right now! I truly appreciate you and all your hard work!  ALL of my friends raved about YOU and the resort and the trip itself!  You truly made my birthday a wonderful event!" -Jermecia, traveled to Jamaica