Romance Travel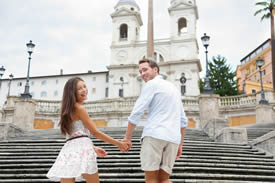 Your honeymoon or romantic getaway should be a special time for the two of you. Are you planning on proposing, ready to set the date on your destination wedding or honeymoon, or simply celebrating a special occasion? The reasons for vacationing with your partner are as endless as the reasons you fell in love in the first place. Regardless of why you are choosing to travel, your vacation should be completely worry-free and allow plenty of time to indulge in the relaxing atmosphere and discover your love for each other all over again.
Let me to be your guide to the most romantic destinations on the planet. As a honeymoon and romance travel specialist, I can assist you in all the aspects of your getaway and ensure that your vacation is truly special.
What are you waiting for? Contact me and make your romance travel wish!
"Hi Amy! Everything was AMAZING!  It really was the absolutely perfect, dream honeymoon.  There's not a single thing either of us would have changed!  The resort was beautiful, our bungalow was amazing and had the bathroom of dreams, the food was always very very good…  Everything really was perfect! We really appreciate all of your help and you did a GREAT job putting it all together for us.  We couldn't have done that without you, and we definitely wouldn't have had such an amazing honeymoon without everything you did." -Krystal and Brandon, honeymooned in Bora Bora

"Our honeymoon was really wonderful!  Though with all the sights we took on, we probably could have used another vacation! Lots of wonderful memories made.  Thank you again for all your help!  We'll keep you posted on our next vacay :)" -Amanda and Gerardo, honeymooned in Las Vegas

"Thank you so much for organizing this trip for us!  We really had a wonderful week!" -Rebecca and Will, traveled to St. Lucia

"We had the time of our lives! We are in love with Jamaica!!! The resort itself was beautiful. We are so glad we stayed on the beach side (thanks for suggesting it). The entire time we were there we felt like it was too beautiful to be real! It was breath taking. We are already talking about how we can't wait to go back!!! Thanks again for everything you did! We would have never considered Sandals (we thought it was too expensive) and now we are Sandals enthusiasts and want to check out all the different islands. And the trip itself would have never been as amazing as it was with out you!!" -Jenna and Matt, honeymooned in Jamaica