I recently had the priviledge of spending a short weekend at the newly redesigned Beaches Ocho Rios Resort and Golf Club. Apart from the luxurious upgrades that they have already completed, more exciting renovations are still on the way!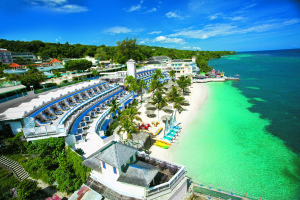 The resort is built on a hillside in terraces and features oversized rooms and balconies. It is a perfect and affordable luxury-included vacation destination for families, couples, and groups of friends. For adults, enjoy relaxing treatments at the signature Red Lane Spa and included golf at the nearby Sandals Golf and Country Club. The kids will have a blast at the Pirate's Island waterpark that includes several waterslides of different sizes and a fun water play area. A breakfast with Big Bird and the rest of the Sesame Street characters is a must for the entire family. The private cove beach offers up plenty of sand, sun, and sea while allowing Mom and Dad the peace of mind that the kids are always in sight. Snorkelers and scuba-divers will appreciate the Marine Protected Area and Fish Sanctuary established by the Sandals Foundation just off-shore.
My own weekend was spent enjoying the grounds and the beach. I love to relax on a comfortable beach lounger and read novels on my iPad, and the cove beach at this resort proved to be a perfect location to indulge in this activity. To top it off, I didn't even have to leave my beach chair for drinks. A lovely waitress checked on me several times throughout my day and brought fresh beverages anytime my cup was low! I was also able to enjoy some delicious grilled lobster and a wonderful chocolate buffet!
Visit my Facebook page to see photos of my weekend at Beaches Ocho Rios and check out this video detailing the luxurious upgrades this resort has completed!