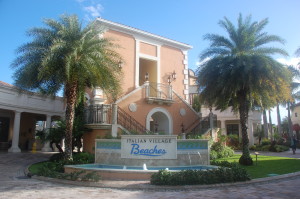 A few days after Thanksgiving, I packed my bag (a Briggs & Riley rolling duffel– which I love and highly recommend) and jetted off to spend 5 glorious nights at Beaches Turks and Caicos.I was fortunate enough to be sharing this vacation with two of my closest girlfriends who I had met during my former life as a zookeeper. Over the years, we had each moved on to other jobs in other parts of the country and this was a much anticipated reunion.
On a side note, I had arranged this trip such that one of my friends did not know that the other was going to be joining us… So we were able to coordinate a fabulous surprise reveal for our meet up at the airport in Miami. Her reaction was absolutely priceless!
It took approximately 15 minutes to clear immigration and customs in Providenciales before we made our way outside to the Beaches stand. There, we were greeted by a friendly gentleman who offered us chilled bottles of water and attached room tags to our luggage. Two minutes later, we found ourselves in a van and on our way to the resort. We had been upgraded to a concierge room, so after a refreshing chilled towel and rum punch welcome, we were escorted to the concierge lounge for check-in. I was very proud that my friends took my Pack for a Purpose suggestion to heart and we were able to present the Sandals Foundation with a large selection of donated school supplies!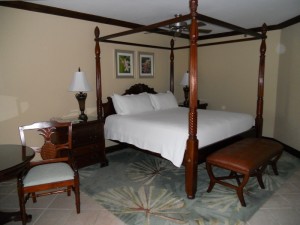 Our room was a Luxury Suite in the Caribbean village with a view of gardens and the ocean. It was a spacious room with a mahogany 4-poster king and a twin day-bed with pull-out trundle. The room also had one of my favorite amenities… a fully-stocked bar! Later that day, we were offered a further upgrade and move to a concierge suite in the newer Italian village. This room had a second bedroom area with a set of bunk-beds with a trundle in addition to the king in the main area.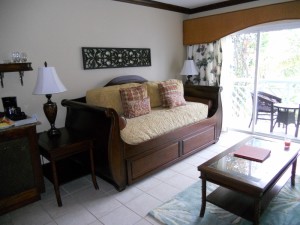 It also had a gorgeous bath with a whirlpool tub and a separate walk-in shower. This room would have been wonderful for a family with kids, but we felt that it was too segregated for our girlfriends' getaway and decided to keep our original suite.
After unpacking, we headed out for a walk around the property and a stop at the watersports center to sign up for our dives. I had been to the resort before, so I used this time to give my friends an informal tour. This is a large and grand hotel. I do recommend joining one of the orientation sessions so that you don't miss any of it.
I won't bore you with a complete play-by-play of the rest of our trip, so I'll focus on the highlights….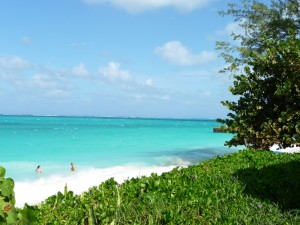 Our favorite breakfast was a selection at Café de Paris, the resort's French patisserie. We were easily able to make a meal out of the hot ham and cheese croissants, fruits, crepes, and specialty coffees. Otherwise, the breakfast buffet was splendid. For lunch, it's a toss-up between the crispy, thin-crust pizza at Bella Napoli or the jerk chicken and burgers at Arizona's. By far, our best dinner was at Le Petit Chateau. I could've made a very satisfying meal out of the scallops, hand-rolled butternut squash tortellini, and wild mushroom risotto that were all on the appetizer menu. Grand Marnier crème brulee and a molten chocolate cake with vanilla ice cream were the favorite desserts of the trip!
Beaches Resorts serves up Beringer as the house wine. I personally love the Cabernet Sauvignon and the Pinot Grigio. You can also choose to buy a bottle of something else from the extensive Chairman's Wine list. These wines and other cocktails are kept flowing throughout the day and night at the many bars spread throughout the resort. I like the local Turk's Head beer and, of course… the BBC. It's a delicious frozen blended concoction of ripe banana, Bailey's, and coconut cream. They don't use banana mix in their drinks here…only fresh whole bananas!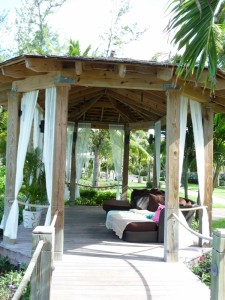 When we weren't eating, we were enjoying the pools, waterslides and lazy river, and of course..the beach! The weather on this trip didn't cooperate perfectly with us. In fact, there were some very heavy downpours. However, we didn't want to spend our vacation in our room, so we made the best of the rainy times and had a blast hanging out on the couches in the beachside gazebos. That being said, there was still sunshine on the trip and we were able to take a couple long walks down the beautiful 12-mile long Grace Bay Beach. On one of these strolls, I passed by a professional swimsuit photo shoot taking place, model and all!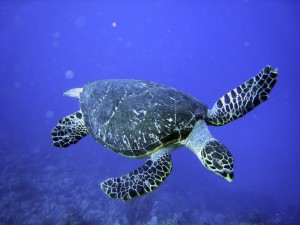 Two of us took advantage of the scuba diving (included for certified divers) and I got the chance to come within a few feet of a large sea turtle!!! Other diving highlights were Caribbean reef shark and barracuda sightings. The dive crew was patient and helpful, although some dives were cancelled due to bad weather and one of our dive trips was severely delayed without much explanation. While we were out diving, our other friend took advantage of the exercise class offerings, which included yoga, zumba, and a boot-camp style session.
We were sad to leave on final day of our stay. We even woke up early to get some final runs in on the waterslides and a last dip in the ocean. Overall, the three of us had a great vacation and I was so happy that I was able to share one of my favorite places with my best friends. I'm looking forward to putting together another trip next year!
Please check out Three Wishes Travel on facebook for more pictures.